We do our very best to so that everyone that visits Jungle Jac's Play Center has a safe and fun visit, weather you are bringing a group in for a Birthday Party or coming with your kids to play Lazer tag, Bumper Cars, Trampolines, Jungle Playground,  Games and Rewards or enjoy some food in our cafeteria we hope that you have an incredible experience that exceeds expectations.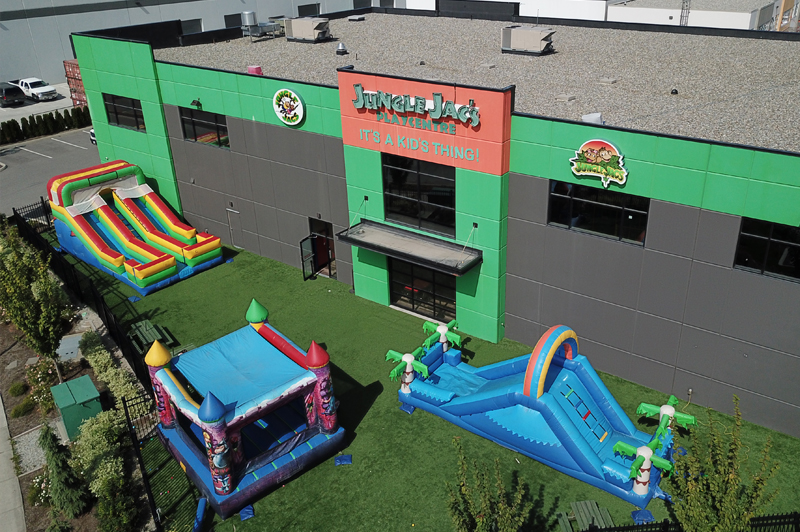 Our brand new outdoor inflatable bounce zone will be open everyday during the summer. (weather permitting).rtis.
What Our Families are Saying
Had my son's 6th birthday there, all the kids had a blast and there was so much for them to do. The room was set up for food and had plenty of time. It was definitely pricey for a party but worth the memories for my son's first school party. Would definitely go back for sure!!
Very good place to take kids and burn off energy! They had lots of fun.
I just had my kids birthday at this place for the first time and was impressed with every part of the experience. Place was very clean, staff were all nice and professional and management was great, Specially thanks to David and Kim.
love this place!!! they're pretty clean and the staffs are super friendly
I love this place. Kids blow off steam and I can sit and eat junk food and drink hot coffee
Kids loved it. Pretty packed, more than enough things to keep them busy and running around for a couple hours.
Good nice clean place. Friendly staff. The kids enjoy themselves
We are all about Fun and Security.
We use a security wrist band and u.v. stamp format. This serves as an excellent form of protection for our guests. We would appreciate parent/guardian participation as this is not always 100% efficient. The adult who registers with the child/ren on arrival MUST be present upon departing; showing their corresponding bands. We understand that this format takes a little time upon arrival and departure we hope that you appreciate the importance of the safety factor.