JUNGLE JACS BIRTHDAY PARTIES
 How Your Party Will Run
Birthday Parties are 2 hours and 30 minutes long, from arrival to end. Please ONLY arrive maximum 5 mins before your party start time. Coming too early will overlap with the earlier check-in delaying everyone.
$25.99/ child, (minimum 8 children MON-FRI and minimum 10 children SAT-SUN). See our "Party Packages" page for more info on prices and to book!
 Upon Arrival
When you arrive at Jungle Jac's we ask you head to our "Party Check-In Desk." We will ask for you to write out a list of the children's names who are attending your birthday party. Each child that is attending will need to check in here as this is where we ask the children their food order they will be eating later on in the party. The children will get a choice of either cheese pizza or hot dog, both accompanied with popcorn and unlimited drinks in the party room. No outside food and drink is allowed except for your birthday cake. Once a guest has checked in and have their safety wristband on they are allowed to enter the jungle playground. The children will enjoy 90mins of play time from when the party has started. After this we will call all guests to your private party room (which you will be told upon check in.) You and your guests then enjoy this private room for 60mins. Upon arrival to your party room you will find all the children's food ready, as well as any adult food you may have added on. You will also get your own party host helper to assist you with anything you need during that hour, (incl. serving drinks, refills, cutting or serving cake, etc.) And don't worry about the clean up, that's on us! You're 60 minutes in your room is all for you, we allocate clean up times after for our staff to take care of that part for you! This is when your party booking slot has now ended, however feel free to stay an additional hour after if the kids aren't quite done playing yet!
Upon Check Out
Ready to GO! Once you are ready to leave, please ensure ALL of your guests have left. The birthday child will receive a FREE Jungle Jacs T-Shirt.
You may pay your balance at the front desk. You are only charged for the number of children that attend the party (min 8 children), not what number you booked for. Remember to collect your remaining cake or else we just may eat it!!
# Please note: Any person that is entering the facility, wheter playing or childminding is eligible for entry fee.
We recommend children should wear casual clothing. Socks are required. A $100.00, non-refundable deposit is required to book and hold a party.

Forget about goodie bags or just don't have the time?

Jungle Jac's even provide goodies bags for $5.99 each to make it even less hassle.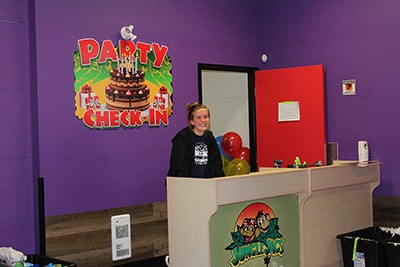 PARTY CHECK-IN
Arrive at your designated party time at our check-in desk, you will be asked for the party guest list. We will check-in each child and take their individual food order. (cheese pizza or hotdog and popcorn).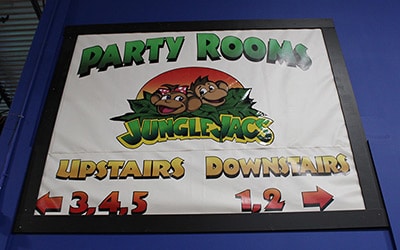 All our private party rooms sit a minimum of 15 children. They vary in size, these are allocated pending on the number of children attending your party.
Birtday Parties Done With Ease...
Birthday Parties are easy at Jungle Jacs, You have fun with your kids and let us take care of the rest.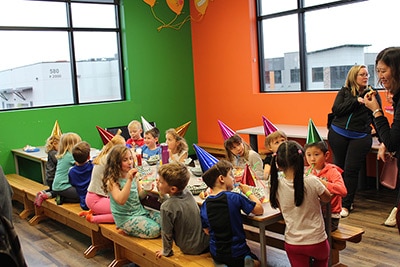 We have multiple different party packages available to you, click below to find out more.
Trampoline Socks **REQUIRED**
Trampoline socks are required at any trampoline facility in BC (Due to Insurance) and if you have socks from a previous time or another facility you may bring them.
Socks are available for purchase and are $4.44 per pair.